Szlachetna Paczka 2016
W końcu 2016 roku pracownicy ŚLCJ po raz kolejny zaangażowali się w wspólne przygotowanie Szlachetnej Paczki.
Naszą pomoc skierowaliśmy do rodziny pani Marzeny i pana Krzysztofa, którzy wychowują osiemnastoletniego syna Szymona. Rodzina utrzymuje się w ciężkiej sytuacji od 3 lat kiedy u pani Marzeny doszło do udaru niedokrwiennego mózgu. Od tamtej pory kobieta, która dodatkowo cierpi na reumatoidalne zapalenie stawów, ma ogromne problemy z samodzielnym poruszaniem się. Na utrzymanie rodziny pracuje jedynie pan Krzysztof, który zajmuje się wykańczaniem domów. Jest to w dużej mierze praca sezonowa. Zimą jest bardzo mało zleceń, przez co ich sytuacja finansowa dramatycznie się pogarsza i po odjęciu stałych kosztów zostaje jedynie 120 zł na osobę miesięcznie. Szymon godzi naukę w klasie maturalnej z opieką nad mamą i wykonywaniem innych obowiązków domowych.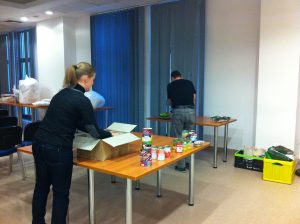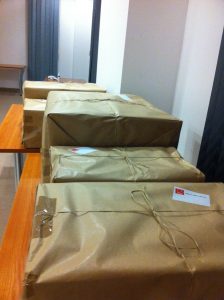 W pomoc na różne sposoby zaangażowało się ok. 40 osób z naszego Laboratorium. Zebraliśmy środki finansowe (ok. 1 700 zł) oraz dary rzeczowe, dzięki czemu do rodziny trafiło 13 pudeł z żywnością, środkami czystości, poduszkami, kołdrami, pościelami, ręcznikami, kocem i odkurzaczem, a także specjalnymi świątecznymi upominkami.
Od wolontariuszki Szlachetnej Paczki, której bardzo dziękujemy za pomoc, zaangażowanie i odpowiedzi na nasze pytania, otrzymaliśmy wyjątkowy prezent – relację z przekazania Paczki.
Relacja ze spotkania z rodziną przy wręczeniu 
paczki

Dostarczenie paczek tej rodzinie wywołało wiele pozytywnych emocji. Rozpakowanie darów sprawiło wielką radość i wywołało wzruszenie zarówno u rodziny jak i u mnie. Nie było rzeczy z której rodzina nie byłaby zadowolona, każdy karton, każda wyjmowane rzecz bardzo cieszyła rodzine. Emocje przy otwieraniu paczki były nie do opisania, rodzina nie umiała poskromić swojej radości i wdzięczności podczas otwierania każdego kolejnego kartonu. Pani Marzena ze łzami w oczach zaczęła mnie przytulać i dziękować za to wszystko co dla niej zrobiono. Najbardziej w glowie utkwily mi słowa syna "to teraz będziemy mogli zaoszczędzić pieniądze i już nie będzie brakować nam na Twoje leki mamo. To czas zmian."
 Co chce przekazać wolontariusz
Chciałabym także jako wolontariusz z całego serca podziękować za współpracę z Państwem oraz okazaną rodzinie pomoc. Jestem bardzo pozytywnie zaskoczona podejściem do przygotowania przez Państwa paczki. Zauważyłam że zaangażowanie oraz praca była ogromna, a każdy szczegół prezentu precyzyjnie dopracowany. Kontakt z Państwem to była dla mnie czysta przyjemność. To piękne, że istnieją jeszcze na świecie tacy ludzie, dzięki takim darczyńcom tegoroczne święta tej rodziny będą magiczne i przepełnione uśmiechem. Jeszcze raz bardzo dziękuję za zaangażowanie w przygotowanie paczki właśnie dla tej rodziny i proszę pamiętać dobro wraca!
Co chce powiedzieć od siebie rodzina
Rodzina chciała przede wszystkim bardzo podziękować ludziom którzy tak bardzo im pomogli. Pani Marzena powiedziała że to wspaniałe że istnieją na świecie jeszcze tak wspaniali ludzie jak państwo. Cała rodzina pragnęła także podziękować za życzenia które otrzymała. Prócz tego życzy państwu wesołych i zdrowych świąt oraz tego aby to wszystko co państwo zrobili było wynagrodzone. Rodzina dziękuję że dzięki Państwu te święta będą piękniejsze oraz że na ich twarzy pojawił się uśmiech.